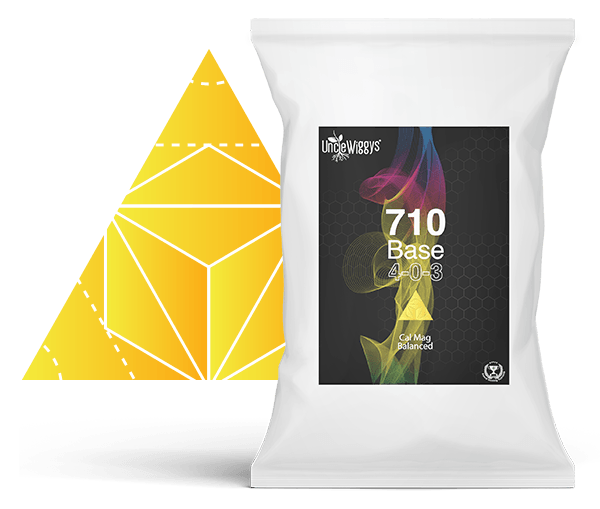 MACRO NUTRITION
710 Base provides plants with the nutritional base they need most of the time- N, K, Ca, and Mg. Controlling Cal-Mag levels in a feeding program has never been this easy. Need more Cal-Mag? Just use more Base. It's an incredible foliar spray, and is balanced with Potassium for bloom. Buffering new coco substrate with 710 Base ensures consistency and a fresh start every time, by pushing out salt water minerals and whatever else, and replacing them with clean calcium.
CONTAINS
Macro Nutrition- N, K, Ca, Mg

Derived from: Calcium NItrate, Magnesium Nitrate, Magnesium Oxide, Potassium Nitrate
BENEFITS
Easy to use

Clean, bio-available macro nutrition source

Easy control over Cal-Mag levels

Cal-Mag balanced with Potassium
WHEN TO USE
In veg and bloom

As a foliar

Buffer new substrate
USAGE
Irrigation- Follow feed chart recommendations. 250-1000 ppm.

Foliar- Promote explosive vegatative growth, reverse lockout, fight stress, and get energy directly into the leaves.  1 tsp. per gallon, 500-1000 ppm.

Coco buffer- Buffer new coco coir with 2000-4000 ppm of Base- 1 tbs per gallon.  Flush with 200-400 ppm of Base before planting- 1/4 tsp. per gallon.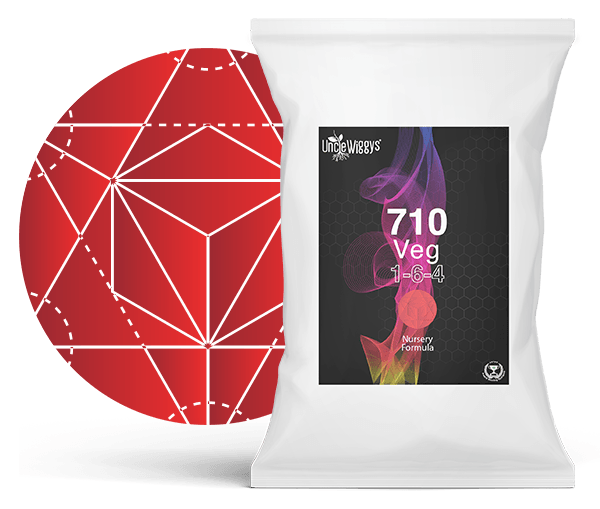 VEG BOOSTER
710 Veg is a nursery powerhouse containing veg boosters and micronutrients without fillers, buffers or preservatives. Used on it's own, it promotes prolific rooting. Combined with 710 Base, 710 Veg promotes fast and vigorous vegatative growth with a healthy immune system.
CONTAINS
Veg boosters

Micro-nutrients

Immune system boosters
BENEFITS
Easy to use

Prolific rooting

Vigorous vegatative growth

Immune system support formula 
WHEN TO USE
Seedlings, clones, and transplants

Through veg and into early flower
USAGE
Irrigation- refer to the feed chart for recommendations. 250-500 ppm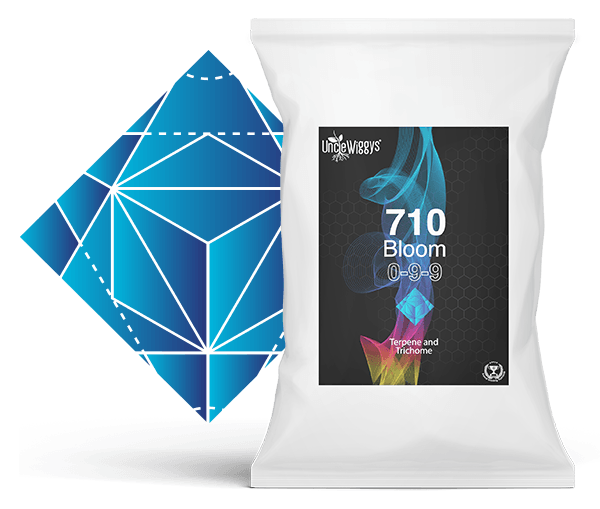 BLOOM BOOSTER
710 Bloom is packed with top tier bloom boosters and balanced with clean micronutrients without buffers or preservatives. Combined with 710 Base, it fuels flower rooms to their fullest potential. Used on it's own, 710 Bloom is a great finisher. 710 Bloom is formulated for terpene and trichome production and promotes full genetic expression and heavy yields.
CONTAINS
Top tier bloom boosters

Clean micro-nutrients
BENEFITS
Easy to use

Full genetic expression

Terpene and trichome production formula

Heavy yields with incredible bag appeal

Immune system support formula

Excellent finisher
USAGE
Irrigation- refer to the feed chart for recommendations. 250-500 ppm