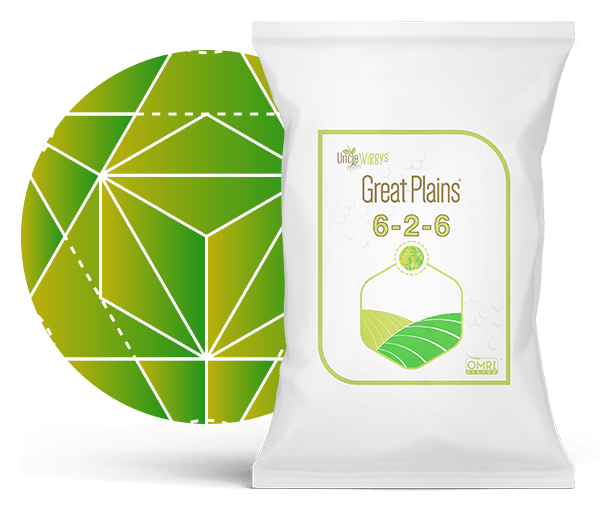 ORGANIC SOIL CONDITIONER
Great Plains 6-2-6 is a slow release organic fertilizer that provides balanced nutrition while transforming dirt into living soil that gets richer over time. We chose a nutritional base of composted and sterilized poultry manure from the calcium rich egg layer, composted feather meal, and organic sulfate of potash from Utah.
Then we added bio-stimulants and soil conditioners to the mix. Five types of beneficial bacteria and six species of fungi were selected to help break down the organic nutrients, improve plant health, increase stress and drought tolerance, and to generally improve the rhizosphere for this crop and many to come. Humates improve soil quality and help make the nutrients more available. Finally, cutting-edge freshwater microalgae extracts improve soil condition and water retention.
CONTAINS
Complete Nutrition, naturally slow release

Calcium rich composted poultry manure

Slow releasing nitrogen from composted feather meal 

Organic sulfate of potash from Utah

Beneficial bacteria and fungi

Nutrient unlocking humates

Soil conditioning microalgae

Derived From: Composted chicken manure, feather meal, sulfate of potash, microalgae
BENEFITS
Improve root zone and soil quality
One organic feeding covers a whole growing season
Increase drought tolerance
Promote plant health
Builds soil for future crops to come
Brew as an excellent organic tea
WHEN TO USE
Before planting

Later in the season as a top dress

In vegatative growth as a foliar fed tea
USAGE
Container rate: 40/75 grams per gallon

Application Rates:

Low-  35 lbs per 1000 feet; 20 lbs per cubic yard

Mid-  60 lbs per 1000 feet; 33 lbs per cubic yard

High- 85 lbs per 1000 feet; 38 lbs per cubic yard

Top dress as necessary 

Brew a tea